Sistem Pakar Diagnosa Kerusakan Laptop Menggunakan Metode Forward Chaining
Suminten Suminten

Universitas Bina Sarana Informatika PSDKU Bogor

Rani Rani

ASM BSI Jakarta
Keywords:
Kata kunci: kerusakan, sistem pakar, pengetahuan,diagnosa, solusi.
Abstract
Expert system is an aplication that can perform activities. This system can make a diagnosis like humans, foe example diagnosing hardware and software damage on laptops. This system is widely used in the field of science. This system contains the knowledge of the experts which transferred into the aplications. This system is mode to find a solution as an experts. Expert system can also provide  an explanation of steps taken, and provide advice or conclusions on the type or damage to the laptop. This system is developed with purpose  to help the users, from hadware and software damage. The case of damageneeden an expert in the settlement with her or his (expert) knowledge already  transferred into the application. This system using forward chaining search method. This reasoning is used to examine the factors that are incorperated by rules stored in system, so that it can be concluded from factors collected. The  software used to build that is dreamweaver, and  to process the database using apache. The evaluation  of system performance is using quesioner which elistributed to 100 respondents. The functionality criteria, a total is 861 and average is 86,1. The efficiency 843 and average is 84,1. The uasbility 824 and an average is 82,4 and then total portability is 810 with an average is 81,0.
Downloads
Download data is not yet available.
References
[1] A. Farizi, "Sistem Pakar Untuk Mendiagnosa Kerusakan Komputer Dengan Menggunakan Metode Forward Chaining.," Edu Komputika J., vol. .1, No.2, p. 22, 2014.
[2] A. Kaushik, Satvika, and M. Barnela, "Printer Troubleshooting Expert System," Int. J. Adv. Res. Comput. Sci. Softw. Eng., vol. 2, no. 10, pp. 164–168, 2012.
[3] S. I. Ele and A. W.A, "Design of Computer Fault Diagnosis and Troubleshooting System ( CFDTS )," West African J. Ind. Acad. Res., vol. 9, no. 1, pp. 43–53, 2013.
[4] A. A. Ergado, "Self learning computer troubleshooting expert system," Int. J. Artif. Intell. Appl., vol. 7, no. 1, p. 14, 2016.
[5] A. H. Hartomo, "SIMULATOR KERUSAKAN LAPTOP SEBAGAI MEDIA PEMBELAJARAN PADA MATA PELAJARAN PERAKITAN DAN PERBAIKAN KOMPUTER DI SMK PIRI 1 YOGYAKARTA." p. 27, 2015.
[6] Yuhandri, "Diagnosa Penyakit Osteoporosis Menggunakan Metode Certainty Factor.," J. RESTI, vol. 2, no. 1, pp. 422–429, 2018.
[7] N. Suryani, "Intelligent System for Diagnosis Common Skin Disease in Indonesia Based on Web," in International Seminar on Scientific Issues and Trends (ISSIT), 2014, p. 7.
[8] Sartini, "Sistem Pakar Identifikasi Kerusakan Hardware Handpone Dengan Menggunakan Metode Forward Chaining.," J. Tek. Komput. AMIK BSI, vol. 1, No.2, p. 219, 2015.
[9] Y. S. Putra and M. A. Muslim, "Game Chicken Roll dengan Menggunakan Metode Forward Chaining," J. EECCIS, vol. 7, no. 1, pp. 41–46, 2013.
[10] Y. Bassil, "E XPERT PC T ROUBLESHOOTER WITH F UZZY -L OGIC AND S ELF -L EARNING S UPPORT," Int. J. Artif. Intell. Appl., vol. 3, no. 2, pp. 11–21, 2012.
[11] D. . . Rahmantara, K. D. K. Wardhana, and M. rois A. Saf, "Aplikasi Pengenalan Nama Surah pada Juz ke 30 Kitab Suci Al-Qur'an Menggunakan Speech Recognition," J. RESTI, vol. 2, no. 1, pp. 345–353, 2018.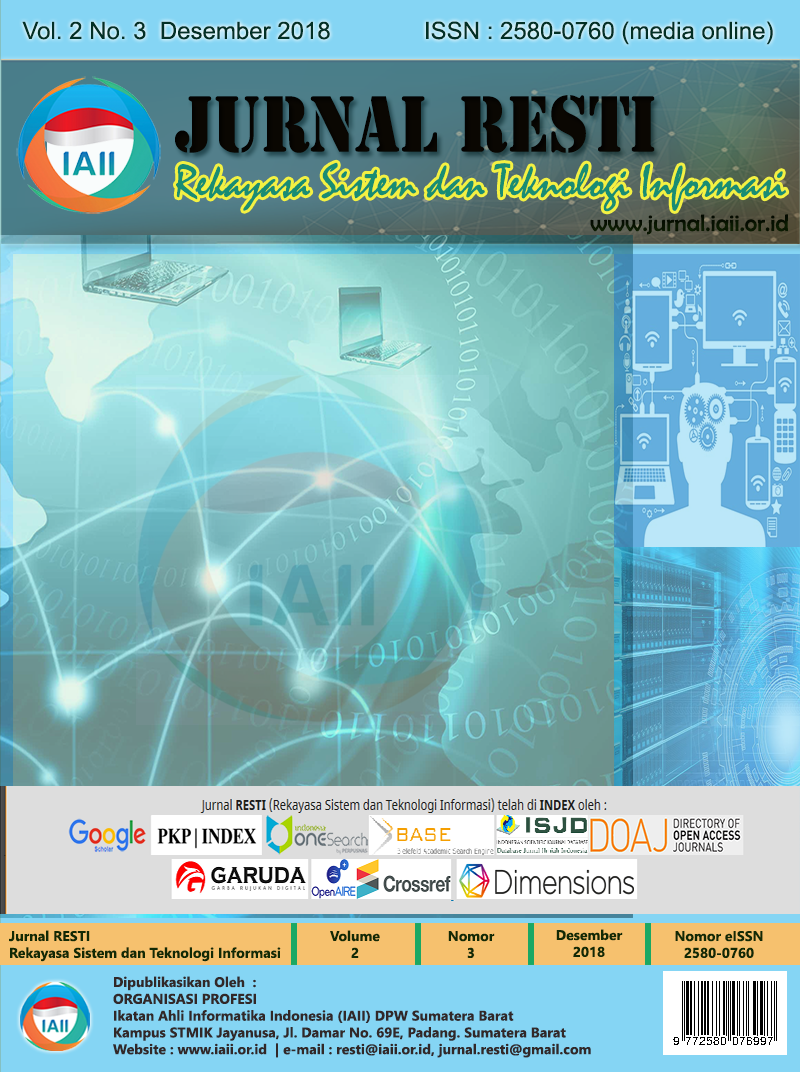 How to Cite
Suminten, S., & Rani, R. (2018). Sistem Pakar Diagnosa Kerusakan Laptop Menggunakan Metode Forward Chaining. Jurnal RESTI (Rekayasa Sistem Dan Teknologi Informasi), 2(3), 604 - 610. https://doi.org/10.29207/resti.v2i3.468
Section
Artikel Teknologi Informasi
Copyright (c) 2018 Jurnal RESTI (Rekayasa Sistem dan Teknologi Informasi)
This work is licensed under a Creative Commons Attribution 4.0 International License.
Hak cipta pada setiap artikel adalah milik penulis.
Penulis mengakui bahwa Jurnal RESTI (Rekayasa Sistem dan Teknologi Informasi) sebagai publisher yang mempublikasikan pertama kali dengan lisensi Creative Commons Attribution 4.0 International License.
Penulis dapat memasukan tulisan secara terpisah, mengatur distribusi non-ekskulif dari naskah yang telah terbit di jurnal ini kedalam versi yang lain (misal: dikirim ke respository institusi penulis, publikasi kedalam buku, dll), dengan mengakui bahwa naskah telah terbit pertama kali pada Jurnal RESTI (Rekayasa Sistem dan Teknologi Informasi) ;