Klasifikasi Citra X-Ray Diagnosis Tuberkulosis Berbasis Fitur Statistis
Yudhi Agussationo

Politeknik Jambi

Indah Soesanti

Universitas Gadjah Mada

Warsun Najib

Universitas Gadjah Mada
Keywords:
Feature Extraction, X-Ray Image, Tuberculosis, Statistic, Histogram GLCM, PCA
Abstract
Tuberculosis is one of the causes of human death. The results of the x-ray examination of tuberculosis diagnosis can be used as an object in the feature extraction process which is a stage in extracting the characteristics of the object contained in an image of a diagnosis of tuberculosis. In this study used first-order statistic (histogram), first-order Gray-Level Co-occurrence Matrix (GLCM) feature extraction methods, as well as the Principle Component Analysis (PCA). Data research digital x-ray tuberculosis patients from Dr. Sardjito Yogyakarta as 33 patients in 2012. Each 6 normal PA (Postero-anterior), 19 abnormal PA, 4 normal AP (Antero-Posterior), and 4 abnormal AP. This study aims to find the best characteristics contained in the x-ray image of tuberculosis diagnosis using statistical texture analysis obtained from features found in feature extraction methods. Identified features: variance, standard deviation, skewness, kurtosis, contrast and energy. Classification uses 33 test data are built using the Multi Layer Perceptron (MLP) method, while the output is a normal and abnormal image. The results showed that the accuracy classification used Histogram (81,81%), GLCM (96,96%), PCA (81,82%), and combination GLCM Histogram (100%).
Downloads
Download data is not yet available.
References
[1] Departemen Kesehatan Republik Indonesia., 2006. Pedoman Nasional Penanggulangan Tuberkulosis. Edisi 2 Cetakan Pertama. Jakarta.
[2] Perhimpunan Dokter Paru Indonesia., 2002. Tuberkulosis: Pedoman Diagnosis & Penatalaksanaan di Indonesia. Jakarta.
[3] Sumartono, I., 2009. Implementasi Metode Kohonen SOM (Self Organizing Maps) untuk Identifikasi Penyakit Paru-Paru Terhadap Penyakit Tuberkulosis. Surabaya : STIKOM Surabaya.
[4] Setia, I., 2009. Studi Identifikasi Penyakit Tuberkulosis Pada Paru-Paru Dengan Metode Jaringan Syaraf Tiruan. Surabaya : ITS Surabaya.
[5] Zain, Y., 2010. Identifikasi Bakteri Tuberkulosis Berdasarkan Ciri morfologi dan Warna. Surabaya : ITS Surabaya.
[6] Supatman., 2009. Deteksi Pembesaran Kelenjar Getah Bening Pada Paru Dengan Pengolahan Citra Digital Untuk Mendiagnosa Penyakit Primer Kompleks Tuberkulosis (PKTB). In: SNATI Jurusan Teknik Informatika, Fakultas Teknologi Industri, Universitas Islam Indonesia, ISSN: 1907-5022. Yogyakarta.
[7] Nur Rohmah, R., 2013. Lung Tuberculosis Identification Based on Statistical Feature of Thoracic X-ray. Quality in research 2013, 978-1-4673-5785-2/13/$31.00 ©2013 IEEE.
[8] Tansa, S., 2010. Deteksi Tumor Otak dan Stroke Hemoragik Pada Citra CT Scan dengan Analisis Tekstur Gray Level Co-occurence Matriks (GLCM). Tesis. M.Eng. Fakultas Teknik. Universitas Gadjah Mada. Yogyakarta.
[9] Arif A., Pengenalan Wajah Menggunakan PCA dan Jaringan Syaraf Tiruan. Universitas Airlangga. Surabaya.
[10] Marques O, Furht B., 2002. Content Based Image and Video Retrieval. Florida Atlantic University Baca Raton, FL, USA: Kluwer Academic Publisher.
[11] Osadebey ME., 2006. Integrated Content-BasedImage Retrieval using Texture, Shape, andSpatial Information. Master Thesis: UmeaUniversity.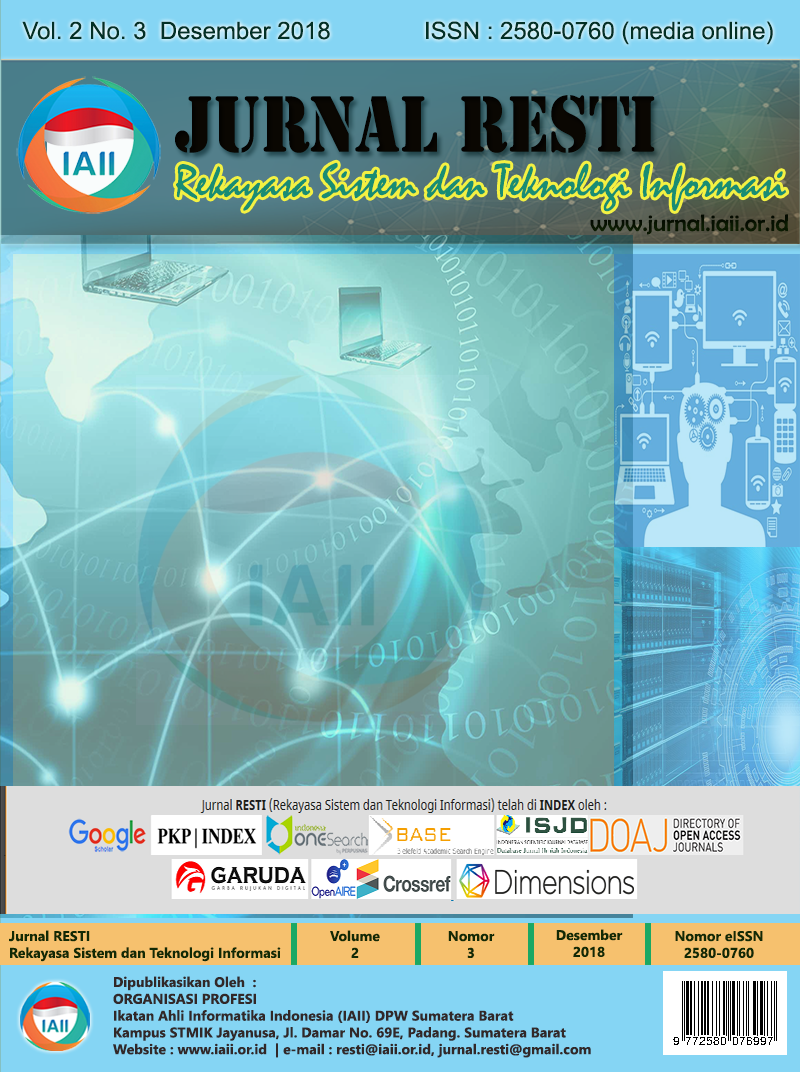 How to Cite
Agussationo, Y., Soesanti, I., & Najib, W. (2018). Klasifikasi Citra X-Ray Diagnosis Tuberkulosis Berbasis Fitur Statistis. Jurnal RESTI (Rekayasa Sistem Dan Teknologi Informasi), 2(3), 736 - 745. https://doi.org/10.29207/resti.v2i3.523
Section
Artikel Teknologi Informasi
Copyright (c) 2018 Jurnal RESTI (Rekayasa Sistem dan Teknologi Informasi)
This work is licensed under a Creative Commons Attribution 4.0 International License.
Hak cipta pada setiap artikel adalah milik penulis.
Penulis mengakui bahwa Jurnal RESTI (Rekayasa Sistem dan Teknologi Informasi) sebagai publisher yang mempublikasikan pertama kali dengan lisensi Creative Commons Attribution 4.0 International License.
Penulis dapat memasukan tulisan secara terpisah, mengatur distribusi non-ekskulif dari naskah yang telah terbit di jurnal ini kedalam versi yang lain (misal: dikirim ke respository institusi penulis, publikasi kedalam buku, dll), dengan mengakui bahwa naskah telah terbit pertama kali pada Jurnal RESTI (Rekayasa Sistem dan Teknologi Informasi) ;