Perancangan LTE Menggunakan Metode Coverage Dimensioning di Kabupaten Kuantan Singingi
Linna Oktaviana Sari

Universitas Riau

Arif Fauzar

Universitas Riau

Ery Safrianti

Universitas Riau

Rahmat Rizal Andhi

Universitas Riau
Keywords:
LTE, Coverage Dimensioning, FDD, RSRP.
Abstract
The need for LTE network is not only required by urban communities, but also rural communities. Kuantan Singingi is one of the districts in Riau province, has a lot of potential that can be developed, especially tourism. To develop the potential, Kuantan singingi needs internet network with better signal quality.
To meet the needs of high quality internet in Kuantan Singingi then in this research has been done design of LTE internet network in Kuantan Singingi area by using Coverage Dimensioning method with FDD as duplex at 5 MHz bandwidth. The design is done for planning until 2020. The design results have been obtained that Kuantan Singingi requires 54 eNodeBs with cell radius about 6690 meters. In addition, the average RSRP -80dBm obtained with the widest coverage area reaches 99.5%. Then the uplink service area reaches 100% for using 16QAM 3/5 modulation, while downlink service area reaches 71% for QPSK 3/5 modulation.
Downloads
Download data is not yet available.
References
[1] Sotar, Mardianto, D., 2018. Sistem Informasi Geografis Daerah Yang Layak Menerima Daging Qurban di Wilayah Kota Padang. Jurnal Rekayasa Sistem dan Teknologi Informasi, Vol 2 No.1, 384-390.
[2] Putra, MS., 2018. Faktor-Faktor Pengembangan Sistem Informasi Akademik Berbasis Web Pada Perguruan Tinggi Swasta Palembang. Jurnal Rekayasa Sistem dan Teknologi Informasi, Vol 2 No.1, 295-300.
[3] Sakina, dkk., 2017. Cell Planning untuk Jaringan 4G-LTE di Pekanbaru. Jurnal Aksara Elementer, Vol 6, No.2.
[4] Mahyu, T.A., 2017. Perancangan dan Analisis Jaringan Indoor Femtocell LTE 2300 MHz di Gedung Java Heritage Hotel Purwokerto Dengan Menggunakan Radiowave Propagation Simulator. In: CITEE . Yogyakarta, Indoensia, 27 Juli 2017.
[5]. Oktauliah, F., 2017. Analisa Perencanaan Jaringan 4G LTE pada Gedung A Fakultas Teknik Universitas Jember Menggunakan Radiowave Propagation Simulator 5.4, Jurnal SINERGI, Vol 21, No.1, 23-30.
[6]Firmawan, A.,2016. Perencanaan Jaringan LTE FDD 1800 MHz di Kota Pekanbaru. JOM FTEKNIK, Vol 3, No.2.
[7]. Muhammad,H.,2016. Analisis Perencanaan Jaringan Long Term Evolution (LTE) Frekuensi 900 MHz Pada Perairan Selat Sunda. In : SENIATI, 2016.
[8] Yogapratama, A.S., 2015. Analysis on 900 MHz And 1800 MHz LTE Network Planning in Rural Area. In : 3rd International Conference on Information and Communication Technology. Bali, Indonesia, 27-29 May 2015, IEEE.
[9] Fauzi, M.R., 2015 "Perencanaan Jaringan LTE FDD 1800 MHz di Kota Semarang Menggunakan Atoll." Jurnal Transient, Vol 4, No.3.
[10] Septiawan,Yusuf., 2015. Perencanaan Jaringan LTE TDD 2300 MHz di Semarang Tahun 2015-2020. Jurnal Transient, Vol 4, No.4.
[11] Marwa E.M, Khalid H.B.,2014, LTE Radio Planning Using Atoll Radio Planning and Optimization Software-, International Journal of Science and Research (IJSR), Volume 3 Issue 10.
[12] Nafiz Imtiaz Bin Hamid, Mohammad T. Kawser, Md. Ashraful Hoque., 2012, Coverage and Capacity Analysis of LTE Radio Network Planning considering Dhaka City, International Journal of Computer Application (IJCA)-Vol.46, No.15, May 2012. pp. 49-56.
[13] Saputro Dheni K A.,2016. Analisis Perencanaan Jaringan LTE di Pita Frekuensi 3500 MHz dengan Mode TDD dan FDD. Jurnal InComTech, Vol 7, No.1.
[14] Walid, Abdellaziz., 2015. On Improving Network Capacity for Downlink and Uplink of Two-Tier LTE-FDD Networks. In International Wireless Communication and Mobile Computing Conference. Dubrovnik, Croatia, 24-28 Agustus 2015. IEEE.
[15]Holma,harr.i, 2009."LTE for UMTS : Evolution to LTE - Advanced, Second Edition". Finland: Jhon Wiley & Sons, United Kingdom.
[16] Motorola., 2011. LTE RF Planning Guidelines, Version 1.2. USA: Motorola.
[17] Nokia Siemens Network., 2011. LTE RPESS; LTE Link Budget.
[18] Nokia Siemens Network., 2011. Air Interface Dimensioning.
[19] Huawei Technologies., 2014. xMbps Anytime Anywhere White Paper.
[20] Lingga Wardhana., 2015, 4G Handbook edisi 2 Bahasa Indonesia.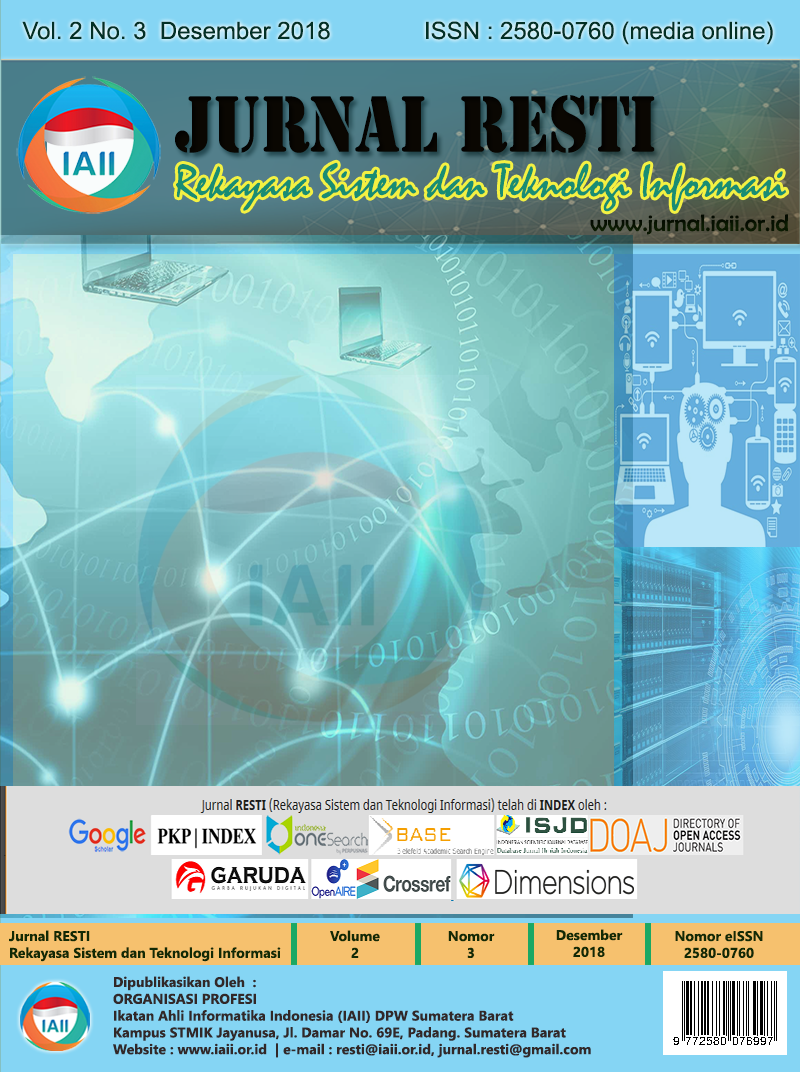 How to Cite
Sari, L. O., Fauzar, A., Safrianti, E., & Andhi, R. R. (2018). Perancangan LTE Menggunakan Metode Coverage Dimensioning di Kabupaten Kuantan Singingi. Jurnal RESTI (Rekayasa Sistem Dan Teknologi Informasi), 2(3), 646 - 655. https://doi.org/10.29207/resti.v2i3.560
Section
Artikel Teknologi Informasi
Copyright (c) 2018 Jurnal RESTI (Rekayasa Sistem dan Teknologi Informasi)
This work is licensed under a Creative Commons Attribution 4.0 International License.
Hak cipta pada setiap artikel adalah milik penulis.
Penulis mengakui bahwa Jurnal RESTI (Rekayasa Sistem dan Teknologi Informasi) sebagai publisher yang mempublikasikan pertama kali dengan lisensi Creative Commons Attribution 4.0 International License.
Penulis dapat memasukan tulisan secara terpisah, mengatur distribusi non-ekskulif dari naskah yang telah terbit di jurnal ini kedalam versi yang lain (misal: dikirim ke respository institusi penulis, publikasi kedalam buku, dll), dengan mengakui bahwa naskah telah terbit pertama kali pada Jurnal RESTI (Rekayasa Sistem dan Teknologi Informasi) ;